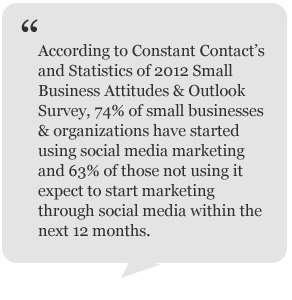 Why Social Media Matters to your Business?
| | |
| --- | --- |
| | With all of the conversation and research about social media marketing and its role in the new marketing world order, we recently conducted research among 2500+ consumers to find out at a high level why people choose to become a Facebook fan or Twitter follower of brands... And whether there was a positive relationship between people's self-reported being a fan/follower and their self-reported likelihood to buy or recommend a brand. |
In reality, there are three primary reasons why businesses need to seriously consider social media as a part of their overall marketing strategy. Failing to understand these three critical aspects will cause you to miss out on spectacular marketing opportunities for your business.
1. Search Engine Optimization
2. Traffic Generation
3. Relationship Building
The Catch?

There is a catch to all this. While it's great that you can gain a stronger presence in the search engines and you can garner new traffic to your website, there is a requirement. That requirement is that you have strong relationships. Google, Bing, etc. understand the influence of your network. The stronger your influence, the more weight they will give to your posts. The more people you influence, the more traffic you will generate. You can also destroy your influence by posting only links to your website and never providing any value. No matter how many people follow/friend you, if you are always asking them to do something (go to a link) and never return anything (information, engagement, humor, etc.) they will begin to ignore you. That will negatively impact your search engine optimization and traffic.

So, the moral is… Be social.
Let us handle the heavy lifting with your
Social media marketing so you can handle your business.

What we do for you ?
eDesigners helps businesses grow using Social Media Marketing . What does this mean? It means we help you get more customers by managing your daily social media efforts on Facebook, Twitter, Flickr, Youtube, Blogger and more. We can also build a Facebook apps or site for your business and run a custom CPC Advert campaign for immediate traffic and to increase the engagement rate. Not to mention assist with things like liking, tweeting, blogging, email newsletters, and SEO efforts eDesigners can help with your various internet marketing needs.

Social Media Marketing Management:
eDesigners handles the daily, weekly, and monthly work that's involved in creating a successful presence for your small business in social media platforms. There are a billion people on Facebook now and 500 million+ on Twitter (!!!). Your customers are definitely there – so you'd better be there with them. We use Facebook, Twitter, Pinterest, LinkedIn, YouTube and others to generate growth and buzz for your business. We do this through exclusive contests, promotions, coupons, check-in deals, awareness programmes and daily activity. We handle your social media, so you can handle your business. And we don't replace your voice, we enhance it – by helping you keep it consistent, up to date, and fresh.

Monthly Reporting:
eDesigners provides monthly reports so you can see exactly how your online marketing efforts are going. Whether it's social media, SEO, or your email marketing efforts – we can track where your customers are coming from and what they're doing when they get to your website or your Facebook page, or even your office or store! We work with you to identify goals for your campaigns and what tactics will work best in achieving those goals. You will know exactly what you're getting for every dollar you spend. We make sure the entire process is 100% transparent so you can see what's going on behind the scene from the very 1st day.